Tracking
There is patchy mobile network coverage in the valleys and mountains of the Lake District fells. For reasons of scoring and for participants safety we use GPS tracking devices that send data back to HQ via mobile data networks.
In previous editions the excellent Flymaster trackers were employed but the unusual features of the way we score the X-Lakes Challenge mean that examining the tracklog of competitors one-by-one is extremely labour intensive.
In 2021 we are working with a very experienced local team from a business called 'Open Tracking'. They provide tracking support in the Lake District fells for many other events, running scoring systems for big challenges
including the Fred Whitton bike race and supply tracking for individuals attempting personal challenges like the 'Bob Graham' round.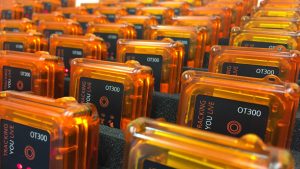 With the help of the Open Tracking team we can ensure that full two-day coverage will be possible and this will mean that participants won't have to worry about recharging the tracker overnight or using the scoring trackers for messaging. Live-tracking of both competitions will be made available to family, friends and supporters via weblinks published via social media, although we plan to shut down access to the leaderboard shortly before the race ends. This will allow some manual additions and deductions to be considered to take account of late returns or leaving behind any flying kit.
The Open Tracking systems do not (yet) carry all the competition features included in Flymasters' service. For instance, they will not show differing icons for when a pilot is airborne or on the ground. Live imaging of each athlete's progress may be less interactive and some of the excellent Flymaster safety alerts available in other types of competition will not be available.
Although tracking data will help us follow the progress of athletes, we expect participants in the two-day challenge to nominate an individual supporter who is made fully aware of route plans, can keep a close eye on your progress and be ready to raise an alert if they become concerned. This person does not need to be in attendance at the event, but we will ask for their contact details when you collect your tracker and 'sign to fly.' We may wish to speak with the supporter if we become concerned about a pilot's progress or location at any time during the event.
Please note that we need these trackers back! There will be significant costs if anyone goes home without giving their tracker back or loses them out on the hill. We also strongly recommend that all participants use a GPS logging device of their own to provide technical backup tracklogs if any dispute arises.
Managing Safety
All pilots must be satisfied that they can manage their own safety while walking or running in the hills. They should equip themselves with relevant safety equipment including navigation devices and communication equipment. This includes some food and drink and a head torch, paper map and whistle are also pretty much essential walking gear for those on the Hardcore challenge.
As always in the Lake District, competitors should expect the weather to change suddenly and should carry appropriate clothing for this eventuality.
All competitors are encouraged to download and install the What 3 Words location app and a map reference generating app (such as GPS OS) to their smartphones. These items are useful if you find yourself helping others in a rescue scenario. Note that you will definitely need backup power supply for your telephone, especially if you plan to use your phone for navigation.
As detailed above, competitors should all ensure that someone else knows their route plan and is happy to take some responsibility for checking on their progress. They should be added to the event telegram communications group prior to the event weekend. If your supporter becomes concerned in any way during the weekend, then they must contact the event organisers immediately by mobile telephone (07894 406224 or 07740 710852) or via the event telegram group. They should also remain accessible by telephone themselves in case the organisers become concerned regarding any athlete.
Although local Mountain Rescue services will be fully aware of our event, they will in no way prioritise X-Lakes participants, and all 999 alerts will be triaged in the same manner as usual.
In order to understand what takes place when the emergency services are alerted, we very strongly recommend that all participants take some time to view a recent presentation about Mountain Rescues involving pilots which was given by Jocky Sanderson at the Kendal Mountain Festival session.