The Lake District economy is all about accommodating tourists and there are several accommodation options available both in the valley itself, and close by. Note that most places will have a rule that people must book a series of two or three nights in the peak of the summer months.
If you do plan to extend your stay, Eskdale (usually) run a small, family friendly, music festival based around the Woolpack pub, with parking close by. This has previously attracted well over 1,500 party-goers and this year the 'Esk Fest' is scheduled to start in the middle of the week immediately after the X-Lakes challenge weekend.
If festivals are your thing, then check out the bands and entertainment here: www.eskfest.com
If you are planning a recce in the area prior to the event weekend, then Eskdale also has a small beer festival which is currently planned for 10th to 13th June. Check it out at www.bootbeer.co.uk
Currently the Lake District is not the easiest place to find wild spots to camp or to park a motorhome, and we anticipate that this summer, the Lakes will be busier than ever. We certainly advise that you make your plans early and don't assume it will be easy as we move into the summer months.
The Woolpack Farm HQ
Steve and Caroline have blocked out some space at their luxury camping pods and studios, which you can see and then reserve, by visiting their website here: www.stayineskdale.co.uk
The Woolpack Inn
www.woolpack.co.uk
tel:01946 723 230
Right next to the event HQ is the Woolpack pub. They serve great food and offer some basic camping and motorhome facilities for those that frequent the pub. The pub also has rooms for B&B, its own camping pod and a larger group of posh en-suite B&B rooms at 'Stanley House' nearby. You could probably rent this entire building if you got together with friends. Check out their website or search on Air BnB.
Eskdale Campsite
https://www.nationaltrust.org.uk/holidays/eskdale-campsite-lake-district
Tel: 01946 723253
A very nice National Trust Campsite is located very close to event HQ. There is also a large National Trust Campsite in Great Langdale – only 40 minutes
away (but over the Hardknott and Wrynose passes)
Eskdale YHA
Who knows when the YHA's will open? But they offer friendly simple accommodation for all.
Fisherground Campsite in Eskdale
https://www.fishergroundcampsite.co.uk/
Tel: 01946 723723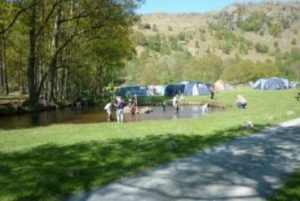 A hugely popular family friendly campsite ten minutes' drive from the event HQ.
There are loads of other places to stay in the area. Please be aware that Hardknott and Wrynose passes are amongst the steepest in Britain and may not be the best option for larger motorhomes and camper vans!